Club History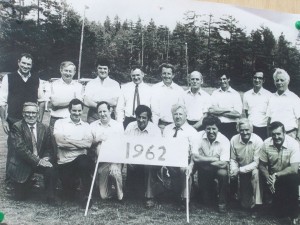 In Mid-August 1955 a new generation were very Gaelic minded and decided to form a new club with emphasis on youth and juvenile teams. Club Offiecers elected were President V. Rev. W. Kelly P.P (R.I.P), Chairman Eamonn McCluskey (R.I.P), Vice-Chairman William Hynes, Secretary Eddie Mulhall, Joint-Treasurers Vaughan Hughes (R.I.P), and Brendan Dunne. Another significant factor was the arrival in Emo of Rev. John Hayden as Curate in Rath. He was a tremendous organiser with the juvenile teams and this laid the foundations for a bright future. In what many will surely describe as the "Golden Decade" 1962 to 1972 Emo teams had captured seven Laois Championships, Minor 1964 and 1965, Under 21 1966 and 1967, Junior 1962, Intermediate 1964, Senior 1972 and Senior League 1972. Emo were senior finalists in 1967 and reached the semi-final in 1966, 1968 and 1970. It must be pointed out that the minor and U-21 successful teams were Parish teams with players from Courtwood and The Heath and Emo joining forces. The U-21teams of 1966 and 1967 were much respected for their footballing skills and had distinction of being invited to play challenge games against the All-Ireland winning Kildare U-21 teams of the mid-Sixties.
Since 1972 Emo have not won a Laois County Championship but the club has made progress in building its own dressing rooms and social centre. Wherever Emo teams of the Sixties and Seventies are mentioned the contribution of the Lawlor Family to the many team victories of those years must receive a special tribute. From the early 1960's to the present time it is fair to say they have played a leading part with Emo and Laois Teams in all grades of the GAA.
Emo of the future will rely on the youth of the district to fashion the teams of the future, and with the present strong organisation in the club, the G.A.A. in Emo is on sound footing.